India has a thriving solar energy industry and is a global leader in the adoption of such technologies. In this article, we look at what makes India an ideal candidate for solar energy and the progress the country is making when it comes to the installation of solar panels.
Clean Energy Ideas recently updated this article in April 2019 to include data from the 2018 International Renewable Energy Association (IRENA) report on renewable energy statistics. This report provides up to date statistics regarding global solar power capacity. The data we have extracted from the report represents the maximum net generating capacity of power plants and other installations using solar energy in India for electricity production at the end of December 2017.
Solar Resources of India
The geographical location of India provides lots of sunny days throughout the majority of the year. This abundance of solar energy resources makes generating electricity from the sun a commercially viable option. This process is helping to meet the nation's growing energy demands.
A 2014 report by India's Ministry of New & Renewable Energy estimates the overall solar power potential of the country at just under 750 GW. This is more than double that of India's total installed electricity capacity, which in July 2016 was just over 300 GW.
The following map of solar resources in India highlights the potential that solar power has in the country. From the map, we can see that around 50% of the country has the potential to generate anywhere between 1,900 and 2,100 kWh/m². This makes India a viable location for solar farms and smaller solar panel installations.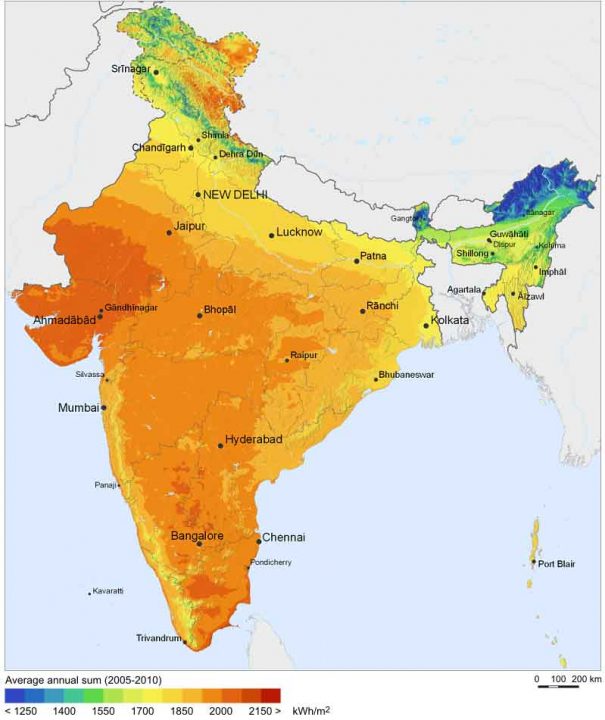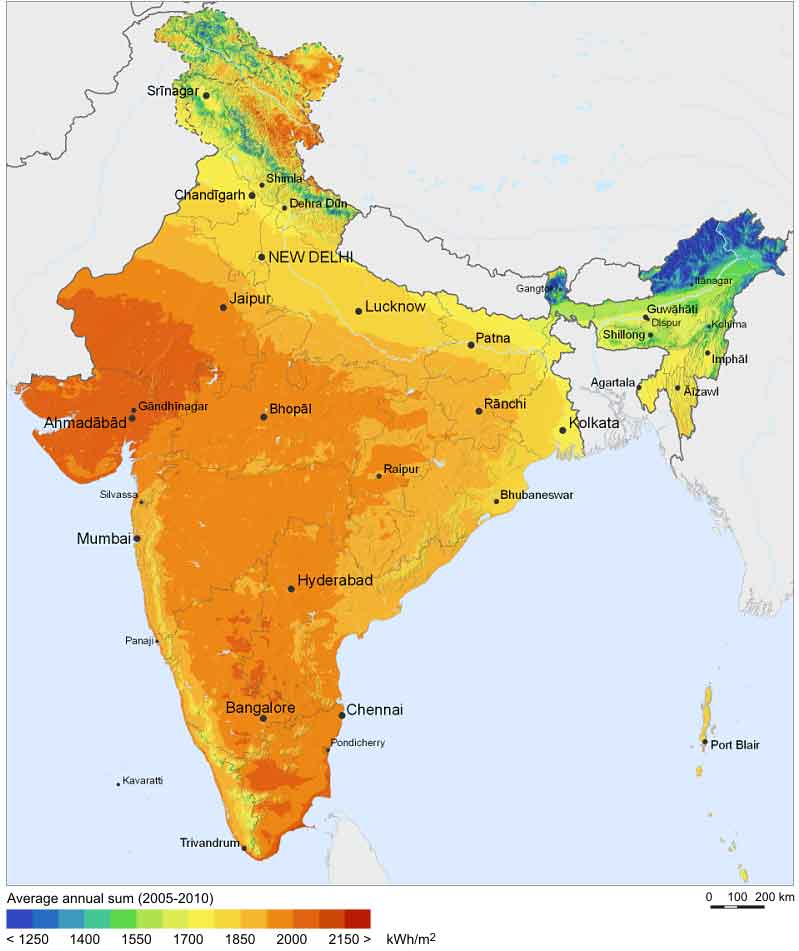 India's Solar Power Capacity
In recent years, India has seen a boom in the installation of grid-connected solar power. IRENA's Renewable Energy Statistics report for 2018 estimates that at the end of 2017, India had a total solar power capacity of 17,873 MW. This is up from 9,647 MW at the end of 2016, showing an impressive 85% increase in a single year. The previous period (2015/2016) saw a similar increase of 79% with solar energy output rising from 5396 MW to 9647 MW.
The following table shows India's solar power capacity over the last 10 years. You can see how the figures rise steadily to the year 2010 and then shoot up each year thereafter.
Table 1: India's solar power capacity between 2008 and 2017.

| | 2008 | 2009 | 2010 | 2011 | 2012 | 2013 | 2014 | 2015 | 2016 | 2017 |
| --- | --- | --- | --- | --- | --- | --- | --- | --- | --- | --- |
| Capacity (MW) | 25 | 36 | 60 | 529 | 926 | 1,336 | 3,518 | 5,396 | 9,647 | 17,873 |
The Future of Solar Energy in India
The future of India's solar energy industry looks good. The country is running the largest renewable energy expansion program in the world and is currently on track to increase overall renewable capacity by more than 400% between 2014 and 2022.
This will take the country from 32 GW of total renewable energy capacity in 2014 to 175 GW by 2022, and out of this capacity 100 GW is to come from solar power alone. Wind power capacity in India will also see a boost, providing a total installed capacity of 60 GW. Wind power installations play a key role in India's renewable energy future.
India's bold ambitions when it comes to renewable energy will have many benefits for the country. The country is likely to see a surge in renewable energy jobs as a result of this. More importantly, India will benefit from the consumption of environmentally friendly power.
Overview
India's renewable energy revolution has only just begun. Over the coming years, the country will invest in its future by taking advantage of the solar energy resources available to it. This will have many benefits for the country, helping to create jobs, boost the economy, and clean up the environment.
For more information on India's solar and renewable energy industry, take a look at the Government of India's Ministry of New & Renewable Energy website.